Our family loves music. My husband is actually somewhat musically inclined, he can play guitar and the drums. Other than the occasional game of Rockband on the Wii, I'm purely a musical spectator. I've always wanted to give my kids some kind of musical education, but I lack the know how to teach them myself, and the money to pay for piano lessons for two kiddos.
We were recently given the opportunity to review the
Kinderbach
program as part of the TOS Review Crew. Kinderbach aims to introduce 3-7 year old children to music in general, with an emphasis on piano/keyboard.
(The program covers things like finger placement on the keyboard, reading music, singing, and rhythm.)
Kinderbach is available as an online subscription program, for $19.99 a month, or at a great savings of $95.88 for a prepaid 12 month subscription.
(You may sign up for a free trial here. You'll also find several free samples of sheet music and student lessons here.)
$100 a year isn't couch cushion change, but one subscription will cover however many children are in your family.
Kinderbach has a number of other products available, including
DVD bundles
, several themed
songbooks
,
downloadable crafts and games
, and coloring books.
We were given access to the digital subscription service. In order fully participate in the program, you'll also need a printer and some sort of keyboard.
(You can buy a cheap keyboard nearly anywhere that will suffice. I actually picked one up from Goodwill for four bucks.)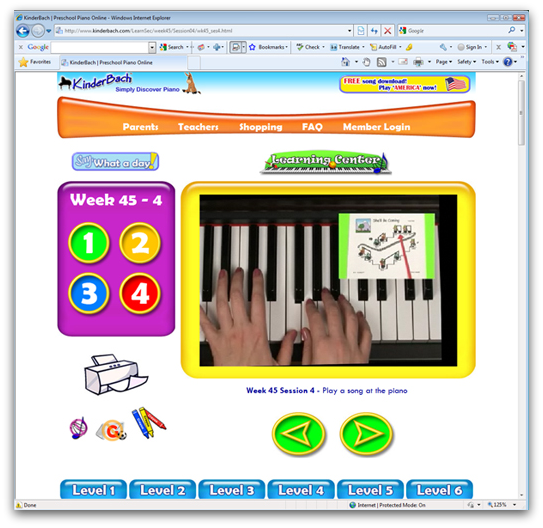 The program currently consists of 6 levels,
(with a seventh in the works.)
Each 10 week level includes a video component and pdf activity book. There are 4 lessons each week. The lessons are fairly short, and they're fun and age appropriate.
I knew V
(nearly 4,)
would be interested in the program, she loves to sing and dance. I didn't expect much enthusiasm from L,
(6,)
who usually declines to participate in anything musical.
I was blown away when after watching the first lesson,
both
kids begged to do another one. And another one. I was even more amazed when
(from the other room where I was doing laundry,)
I heard them starting to actually play along with the songs several weeks into the program.
(You know, real songs, instead of just banging on the keyboard.)
The kids enjoyed clapping, dancing, and singing along with the lessons. They're also really soaking up the material. I can't wait to see what they learn next.
I was honestly surprised how much we loved this program. I tried, but couldn't really think of anything that I'd change or improve on.
For our family, it's a great fit.
Update: I received the following message from Karri at Kinderbach today:
This coupon code gives 30% off any order - homeschool, classroom, online
or DVDs. AND it is good for one year!
Coupon Code: TOScrew2012
Disclosure: I was provided with a digital subscription to this program in order to facilitate this review. No other compensation was provided. All opinions are my own.