I mentioned in a previous post that the kids and I are working on a unit study about the ocean. As part of the TOS Review Crew, we were recently provided with some pretty fantastic curriculum to review called
Who Lives in the Sea?
by
Dive Into Your Imagination
.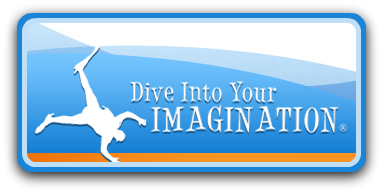 Dive Into Your Imagination
was created by Annie Crawley,
(aka, "Ocean Annie," )
an underwater photographer, motivational speaker, and and dive instructor.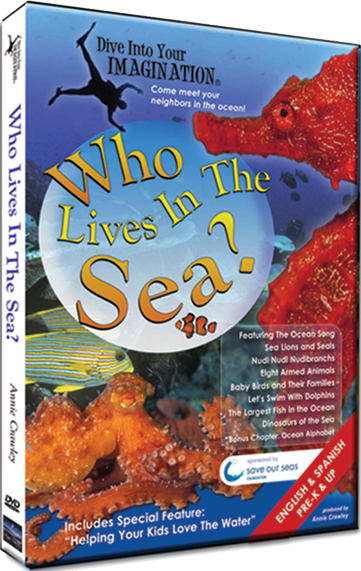 We were sent 2 products, the
Who Lives in the Sea?
DVD,
($19.95, for ages 3-8, 45 minutes in length)
and the
accompanying curriculum guides
($69.95, for each individual PDF. )
On the website, you'll find several other DVDs, books, and other related merchandise, as well as to an option to buy the full set of printed curriculum guides for each DVD for $299. You'll also find
coloring pages
, and links to other resources and articles. It's a wealth of information.
The DVD was broken up into several topical sections,
("Let's Swim with Dolphins," " Turtles: Dinosaurs of the Sea," etc.)
The sections are short, but full of beautiful, colorful footage, and cram packed with information. I doled out the sections one by one with my kiddos, so we could focus a little deeper on each topic, and take full advantage of the curriculum guides. The kids were begging to watch more. That says a lot.
The curriculum guides were
unbelievable
.
(There were two, one for pre-k through k aged children, and another for grades 1-3.)
Each was well over
300
pages long, and included DVD transcripts, lesson plans, worksheets, and many, many cross curricular activities for a fun, all inclusive unit study. I liked that there were a variety of learning styles represented in the activities.
(You'll find there are plenty of hands on activities for wiggly kids like mine.)
The PDF format is easy to read, and easy to print. The educator guides add immeasurably to the already fun, informative DVD.
I expect that when we finish our unit, the kids will have a deep, lasting knowledge base, and probably a lifelong interest in the ocean.
My only reservation about these products is that they're costly. Most homeschool families I know of are on a pretty tight budget, and these curriculum guides would represent a sizable chunk of our curriculum budget.
Annie is offering a fantastic promo to readers of TOS, and blog readers of the TOS Crew Members, though.
If you order the Who Lives in the Sea? , What Makes a Fish a Fish? or Dive into Diversity DVDs, and mention that you are a homeschooler in the comment section of the order form, she will gift you the fantastic corresponding educator guides for free.
That may be the best 20 bucks you'll spend this summer!
To find out what other homeschooling families thought of these products, check out the
linky
on the TOS Review Crew Blog.
Disclosure: I was provided with a free DVD and curriculum guides to facilitate this review. All opinions are my own. All prices are accurate at the time of this posting.