As part of the TOS Review Crew, we were recently given the opportunity to review two more Science DVDs, this time from the
Go Science
series, available through Library and Educational Services.
(Library and Educational Services is a wholesale distributor, which specializes in Christian educational materials, and sells to churches, daycares, schools, and homeschools. Sign up for their mailing list, and you'll frequently be tempted by their fantastic sales.)
There are 6 volumes in the
Go Science
series, with each volume focusing on two to four scientific principles. Each DVD sells for $8.97, or they are available as a set of six for $47.95. The DVDs are recommended for students ages 6-14.
We were sent Volume 2, Simple Machines, Sound, and Weather, and Volume 3 Magnetism, Electricity, Engineering, and Design. Both of these videos clocked in at just under an hour. (I browsed the website, and discovered that some DVDs in this series were a little shorter, in the 40+ minute range.)
The format of the shows is as follows: Ben Roy, (a university instructor, and formerly the director of a science themed television program,) acts as host and instructor. He is assisted by a group of children, and an occasional adult. The kids help Ben with a variety of scientific demonstrations. (Each of the videos I received included 14 demonstrations.) Ben is lively and cheerful. The demonstrations are done using pretty straight foward materials. There are no high tech computer generated simulations or animations.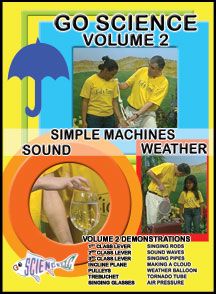 Volume 2 included the following demonstrations:
1st Class Lever 2nd Class Lever
3rd Class Lever Incline Plane
Pulleys Trebuchet
Singing Glasses Singing Rods
Sound Waves Singing Pipes
Making a Cloud Weather Balloon
Tornado Tube Air Pressure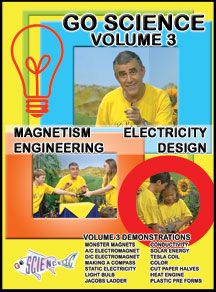 Volume 3 included the following demonstrations:
Monster Magnets A/C Electromagnet
D/C Electromagnet Making a Compass
Static Electricity Light Bulb
Jacobs Ladders Conductivity
Solar Energy Tesla Coil
Color Cut Paper Halves
Heat Engine Plastic Pre Forms
Our impressions: I thought these DVDs were fun. They somehow reminded me of my childhood, watching Mr. Peppermint, and Lambchop's Play Along, when we learned without so many technological bells and whistles. (Yes, I'm getting old.) These DVDs aren't meant to be a stand alone science curriculum, so in and of themselves, they probably wouldn't be "enough" to teach a full science course. They would be a great supplement or enrichment to whatever else you're using, though. Ben's excitement is contagious, and most teachers I know, homeschool or otherwise, are always looking for ways to get kids excited about math and science.
After each segment, Ben makes a link to God, the Bible, or Christian living, reminding us that learning about science is learning about God's creation. That's not something I'd run across before, but I thought it was a neat aspect of the show. (One of my personal peeves is the idea that God and science are somehow mutually exclusive.)
My one complaint about the show was that the volume was fairly uneven, with some segments much louder than others. My easily overstimulated son, (with sensory processing issues,) periodically had to cover his ears and run shrieking around the room due to volume changes. (In fairness, most people would probably notice the volume changes, but not be so disturbed by them.)
Disclosure: I received 2 free DVDs in order to facilitate this review. No other compensation was provided. All opinions are my own.