The title we selected was
What on Earth?
which is, as you might imagine, focused on various elements of Earth Science. The 127 page, softcover, black and white book, and accompanying cd of reproducibles retails for $21.95. It is also available in PDF form, in case you need it yesterday. It's aimed at
(Ha, ha, see what I did there?)
kindergarten and first grade students. This curriculum does require the addition of some supplies, most of which you'll already have, or at any rate can obtain from the grocery store.
(There's a materials list for each project, as well as a helpful master list that includes everything you'll need to complete every project in the book.)
The book is broken down into several subject areas, as follows:
Resources
Rocks and Soil
Water
Changes
Day/Night
Seasons
Each subject area includes several activities, for a total of 30.
(You'll find a sample of this book
here
.)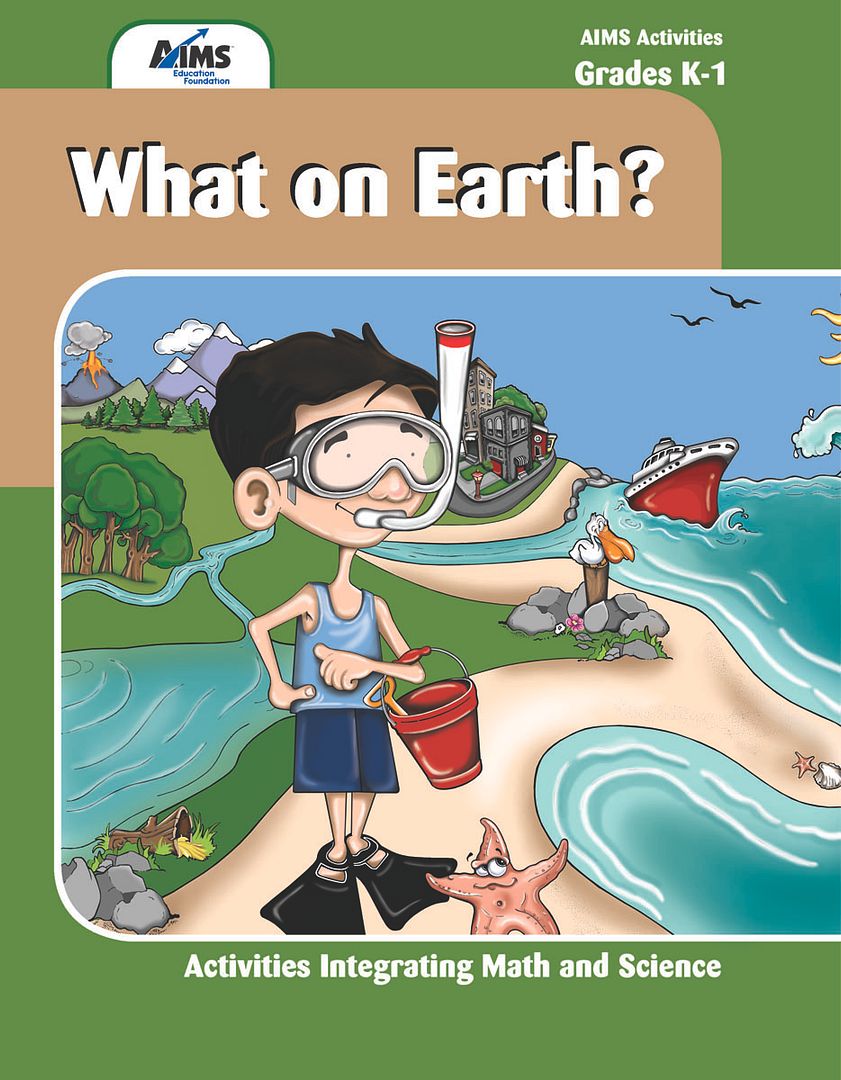 Our experiences: This is the second AIMS book I've reviewed this year, and I have to say, I love them. They're concise, the projects and activities are doable and they're a good value for the money.
I love that they include a cd with any needed reproducibles, which means that you won't have to tear pages out of the book, and can use it for however many children you have, either at the same time, or some time in the future. I wish all publishers would follow suite.
Each activity is laid out in minute detail, from comprehension questions, to specific learning goals. The book assumes you're teaching in a traditional classroom setting, and if you're a homeschooler, you'll likely not be concerned with references to benchmarks, etc. You'll probably also have to tweak some projects and discussions to reflect a much smaller class, (possibly a class of one.) The prep time for each lesson is minimal, which is always a plus, as far as I'm concerned.
My preschooler and first grader both enjoyed this lesson.
I was pleased to find that 4 year old V was able to join her 6 year old brother on many of the discussions and activities. It seems to me that you'd likely be able to tweak the intended ages at least a year in either direction. The lessons are short enough to hold the attention of early elementary aged kiddos.
This curriculum is secular in nature, but I didn't see anything problematic as a Christian homeschooler.
I'd recommend this book to homeschool and classroom teachers alike.
AIMS publishes a huge variety of Science and Math related curriculum, and you'll also find a wealth of related supplies and manipulatives on their site.
To read what other homeschooling families thought about this, and other AIMS products, check out the linky on the
TOS Review Crew
blog.
Disclosure: I was provided with a free copy of this book/cd in order to facilitate this review. No other compensation was provided. All opinions are my own.